Carisma Scale Adventure CA-1E Prairie Wolf RTR 1/10th 4WD 324mm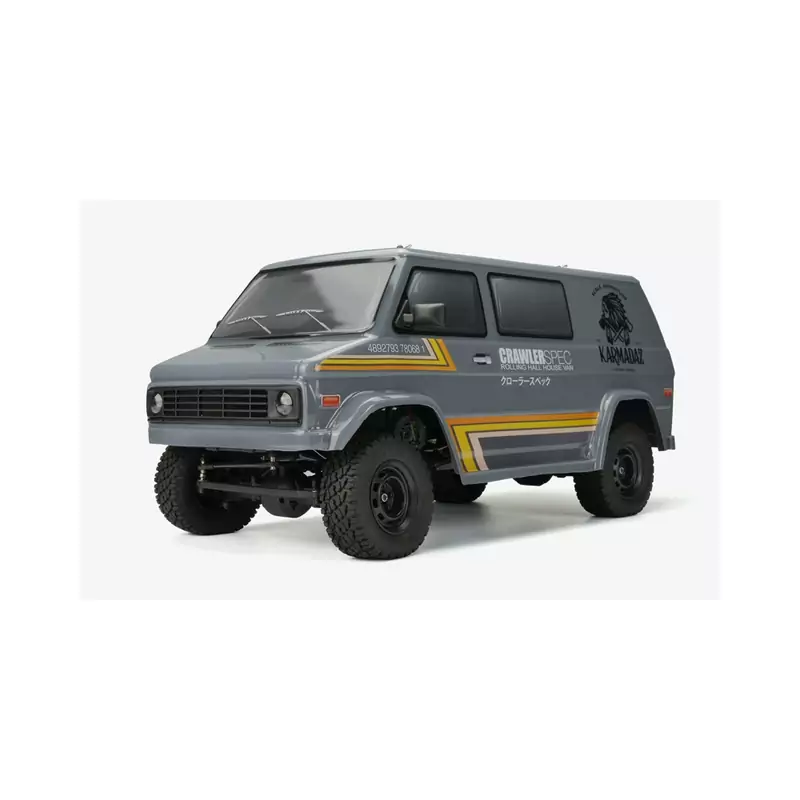  
The call of the wild
The need to explore and to discover new locations, to respect and be at one with nature, leads more and more people to go 'Off Grid' and escape the urban 9-5 lifestyle. Carisma Scale Adventure now offers RC fans with a thirst for this, the opportunity to do so in 1/10th scale, and ready for anything the journey may throw at them along the way!
The Prairie Wolf LWB Adventure Van exudes 'Off Road Adventure'. With scale details like a LED-Ready Grille, Robust Wing Mirrors and a Rear Panel Roof Access Ladder, the body looks the part straight from the box, but still has has enough scope for additional detailing. Add a Roof Rack, Luggage, Spare Wheels & Tyres, Spotlights, a Full Interior, just like every other CSA release so far, the possibilities are truly limitless.
Vacuum Formed in a thicker than standard Lexan for additional rigidity, the body comes pre-painted and adorned with a retro Off Road inspired livery. The body aside, the 324mm Wheelbase rig is fully 2.1 Spec and including our CMS Mount, offering a Forward Weight Bias that combined with the new ATT Transmission and 95mm AT-SS Soft Compound Tyres aids Rock Crawling. We also addressed the issue of Torque Twist with our new ATT (Anti Torque Twist Transmission), neutralising Torque Twist and keeping the wheels firmly planted (and generating grip).
We have also lowered the gear ratio in the transmission to 5.92:1 giving a smoother low RPM range and greater finesse and control. To compliment this we have introduced a new Sealed Can 17T 5 Pole Motor, with the greater magnetic force over a 3-pole motor, thus offering enhanced Torque and Throttle Finesse. But it's not all about Crawling, the 17T motor has the ability to still produce wheel speed when required, for trail running. Being a sealed can, the motor will be more weather resistant and require minimal maintenance between runs, a must for all Scale Adventurists.
FEATURES
- CMS Mount For Improved Weight Bias
- ATT (Anti Torque Twist) Transmission
- New Lower 14,83 (5.92:1) Gear Ratio
- Highly Detailed Adventure Van Body
- Optional Winch Ready Front Bumper
- Soft Compound ATSS All Terrain Tyres
- Front CVD's & Robust Steel Driveline
- 1.9 Beadlock Wheels & Foam Inserts
- 9kg High Torque Metal Geared Servo
- LiPo Safe ARC-1 ESC w Crawler Mode
- New 5 Pole 17t Brushed Crawler Motor
IN BOX
- Van Body Supplied Pre-Painted
- RTR – Just Charge NiMH Pack & Run
- 2.4GHz F.H.S.S Transmitter/Receiver
- NiMH Pack & Safe USB Slow Charger
- Detailed Instruction Manual & Parts List
- Optional LED Light Buckets
- 4 AA Cells For Transmitter Included
- Wing Mirrors Supplied Ready To Fit
- Supplied With Injection Moulded Body Accessories
- Fully Loaded With 2.1 SCA1E Spec Innovation
- A New Approach To Overland Scale Adventures
Be the first to ask a question about this product!